River Teme fish rescued again as water levels drop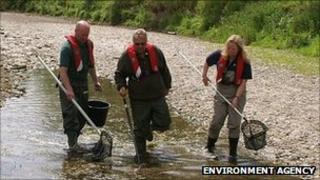 Fish have had to be rescued from a Herefordshire river for a second time this month after water levels fell to dangerous levels.
The Environment Agency moved 800 salmon, brown trout and grayling from the River Teme at Leintwardine.
Roz Challis from the Environment Agency said: "If the water is shallow then the temperature rises very rapidly during the day."
The rescued fish were moved to deeper waters downstream on Saturday.
Ms Challis said she was confident fish stocks in the area would recover once water levels rose again.
"We put them in further upstream or downstream, depending on where the water is, and they always seem to come back every year," she said.