Speculation on Pensham couple's deaths 'unhelpful'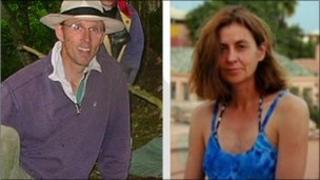 Relatives of a couple who died on holiday in separate falls have described speculation over their deaths as "hurtful and malicious".
Roger and Mathilde Lamb, of Pensham, Worcestershire, died while on holiday with their four sons in Morocco.
The exact circumstances of their deaths are still unknown.
Mrs Lamb's brother-in-law Mark Rogerson said a report that the deaths were being treated as suspicious by police was a "misconception".
He said: "We fully understand that the police routinely investigate the deaths of British nationals abroad in unusual circumstances on behalf of the coroner.
"Eventually, an inquest will rule on these two tragic incidents, which may take some months. Until that time, the family regards any speculation as hurtful and malicious."
The British Embassy in Rabat has confirmed reports that Mrs Lamb, known as Tilly, fell from an apartment in Essaouira while her husband died after a separate fall at a different building a few days later.
'Few details'
Their sons, who are aged between nine and 16, are now in the UK being looked after by relatives.
Mr Rogerson, who lives in France, said they still knew very few details about what happened.
He said they heard about Mrs Lamb's death last Thursday after she apparently fell the previous night. They then heard about Mr Lamb's death on Monday.
Mr Rogerson said Mrs Lamb would have been 44 next month, while her husband was 47.
He added: "Roger and Tilly's families have been deeply shocked and saddened by their tragic deaths while on holiday in Morocco.
"Our principal concern at the moment is to provide love and support to their four sons who have had to suffer the loss of both a mother and a father in swift succession."
Mr Rogerson said Mr Lamb, a geotechnical engineer, had worked for some time in New Zealand, and there had been discussions about the rest of the family moving there.
Rev Terry Henderson, rector for Great Comberton in Worcestershire, said they were very much part of the community through their children's school, Elmley Castle Church of England School.
Mrs Lamb was chairman of the school's parent teacher association (PTA) for several years and both she and her husband were very involved with the school.
"In a small rural community like this, when news like that is suddenly made known, the community, because they know the couple so well through the school, are traumatised by it because in a rural community you get to know people very well," he said.
Mrs Lamb's body will be repatriated to Wiltshire, where some of her family come from.