Pub landlady aims to swim length of the River Wye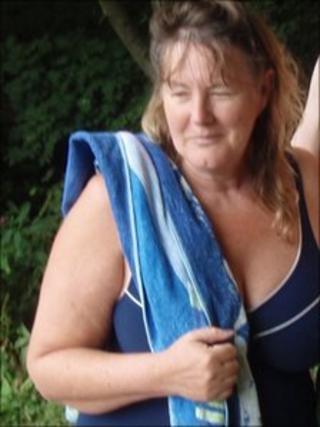 A pub landlady has embarked on a challenge to swim the length of the River Wye, along the English and Welsh border, for charity.
Barbara Lewthwaite of the Hollybush Inn and camp site in Hay on Wye, Powys, plans to swim 140 miles from Plynlimon to Tintern Abbey in Chepstow.
Ms Lewthwaite will be accompanied by a canoeist for safety and hopes to swim about 20 miles (32km) per day.
If she completes the task in seven days she will set a Guinness World Record.
She said: "Lots of people have told me I am going to drown even if I am only ankle deep and lots of people are concerned that I am going to get cold or something dire's going to happen but I've swum all my life and it's part of my daily need to feel the water on my skin."
"This is a wide, shallow river with a rocky bottom and it doesn't take much sunshine to warm it up, it's like a tepid bath," she added.
Ms Lewthwaite is raising money for not for profit social enterprise group Enliven which aims to support communities living along the banks of the River Wye.