Kidderminster fire: Shops gutted in blaze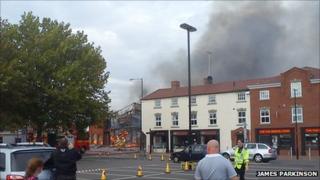 A fire has left two shops destroyed and others damaged in Kidderminster.
Eleven crews from Hereford and Worcester Fire and Rescue Service were sent to put out the blaze that broke out at Levine's furniture store at 13:00 BST.
It spread to the British Heart Foundation store in Market Street and others buildings nearby were evacuated.
Kim Ward, who works at Iceland, said: "It was absolute chaos, you couldn't see anything from the smoke.
"We just kept hearing these big bangs - the first one took the roof off, the second one took the front side of the building down, it just collapsed."
Ms Ward said they managed to evacuate customers safely, adding: "It was all really fast, people were quite scared - some of them were crying."
No casualties
George Sherry, from the fire service, said: "We'll get local authority structural engineers in to make absolutely cast iron sure these buildings are safe to re-occupy."
He also said the fire could have been worse.
"It's a testament to which we got this speed under control, we were here very quickly," he said.
West Midlands Ambulance Service said there were no casualties.
It is still unclear how the fire started.