Teme Bridge tender process begins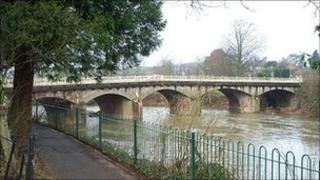 A tender process has started to find a company to repair a historic bridge in a Worcestershire town.
Teme Bridge, in Tenbury Wells, is a designated historic monument and parts of it date back to medieval times.
Worcestershire County Council said the structure had deteriorated since major refurbishment work and widening was carried out in 1908.
The work is due to start in January next year. The council said it would try to keep the closure to a minimum.
A council spokesman said it was "determined" to deliver a contract that would result in the bridge being closed for the shortest time possible to reduce the impact on the community and maintain the viability of businesses during the construction phase.
He added the council would also provide extra services to support the town's businesses including leaflets highlighting diversion routes for suppliers and shoppers and a shuttle bus service to link the severed 758 service from the bridge to the Bromyard Road business park.
Richard Attwood, Worcestershire's engineering project manager, said: "We have changed the evaluation criteria for the tenders for Teme Bridge to allow greater emphasis to be placed on the contractor's programme for delivery.
"The contractor will be looking at working double shifts within extended working days and weekends too."