Cow anthrax test site in Herefordshire sealed off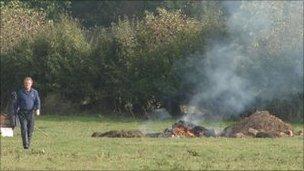 Health officials are still awaiting the results of tests to see if anthrax caused the death of a cow in Herefordshire.
The carcass of the cow was burned in the field on the farm at Bartonsham near Hereford where it was found.
Decontamination equipment has been placed at the gates leading on to the field, together with warning signs saying the area is restricted.
The vet who examined the cow was unsure as to the cause of death.
A footpath across the field where the cow was found has also been closed, and officials from Herefordshire Council stayed in the field overnight on Thursday.
A Defra spokesman said that whenever a cow died in a field it was routine for tests to be done.
Mike Higgins, from Herefordshire Council, said: "Going through laboratory tests with cultures being grown does take a little bit of time."
Anthrax is a notifiable disease and any suspected outbreak must be reported to Defra.
Related Internet Links
The BBC is not responsible for the content of external sites.