Worcester woman takes 'bubbleology' to Romania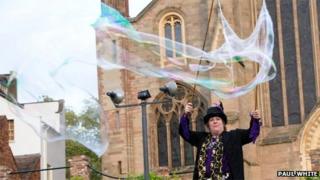 "You stir the solution and it's like a very witchy thing, you're almost casting spells as you create bubbles."
By day June Morley, from Worcester has a "sensible" job as a team manager for charity KeyRing, which supports vulnerable adults.
Away from work she is most likely to be found "playing" around Worcester or the Malvern Hills.
Ms Morley is part of an international community of "bubbleologists", people who create bubbles, often metres long.
The main tools of the trade include string and a pair of sticks.
She describes it as a release, a "therapeutic" experience, but also an obsession.
"I once met a bubbleologist friend in a pub in London and we spent two hours talking about string," she said.
The obsession has been a part of her life since she was introduced to the hobby three years ago.
"I was a parent-volunteer driver with a performing arts company. One day the director asked me if I fancied having a go at bubbles, and from there I got obsessed."
Ms Morley will travel to Transylvania in Romania on 31 October to spend 10 days entertaining children at a charity run by friends.
Love Light Romania, founded by British couple Ron and Jo Jowett, supports children and young people affected by HIV or Aids.
Ms Morley will also be visiting local schools and the charity's outreach projects, hoping to change people's attitudes towards the virus.
She also plans to raise money for the charity and awareness for its work.
Ms Morley will be blogging about her time in the country and filming her experiences.
"I've got a big interest in communication. Bubbles break down barriers and somehow you don't have to speak the language when you blow bubbles.
"Bubbles are also often used in sensory rooms. I've got one friend who has a son with autism and when I blow bubbles it just focuses him and calms him down."
Some 80 litres of bubble solution, much of it donated by other bubbleologists, was sent to Romania three weeks ago on a lorry, to ensure there are enough bubbles to go around.
"They are very magical. Every bubble is unique and it has a dream inside it," she said.