Energy award for refurbished Hereford house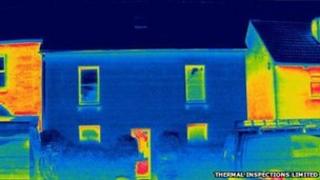 A house in Herefordshire has become the first in the UK to meet a challenging new energy standard.
Grove Cottage in Portfields, Hereford, built in 1869, has been redesigned and refurbished by its architect owner, Andrew Simmonds.
The brick cottage has been "wrapped" in insulation, and new windows and doors installed to reduce gas use by 80%.
As a result it has been awarded the EnerPHit Standard by the Passivhaus Institut.
A fundamental principle of the EnerPhit Standard is to dramatically reduce a property's energy bills while increasing comfort.
Draught free
Thermal images of Grove Cottage show how much energy has escaped from properties on either side.
Mr Simmonds spent a year on the work at Grove Cottage while still living there with his wife and three children.
The 45-year-old said it had been "pretty difficult" to reach his target to reduce the property's energy consumption.
He said it was now completely draught free.
According to Mr Simmonds the house now uses 80% less gas and 45% less electricity than a normal home of the same size.
He said his gas and electricity bill was now down to £500 a year.
Key features of the refurbishment were insulation and the quality of the doors and windows.
The walls have been covered in thick polystyrene insulation and all windows were replaced to maximise the daylight.
Mr Simmonds said: "Wherever we could we put windows facing to the south to soak up the sun."
He said he "wrapped" insulation around "everything" including the walls and the top of the roof.
Under the floor he has used sheep's wool between the joists.
He said it was important that each piece of insulation met without a break.
"If you've got a break... you lose heat, so it's kind of like tucking your clothes in," he said.
Commenting on the Passivhaus principles, Mr Simmonds said: "This is shaking up the green building movement as well as the mainstream because it works."
Mr Simmonds, who runs his own architectural firm, said he was passionate about low-energy sustainable building.
He said his last home was quite cold, but now after a year of effort and disruption, he and his family were looking forward to settling down and enjoying what they had.