Mickey Mouse prototype film found by Herefordshire firm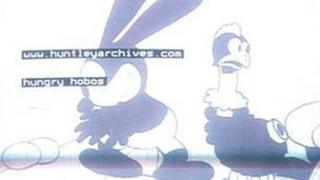 A lost Disney cartoon featuring what is thought to be the prototype character of Mickey Mouse has been found at the Huntley Film Archives in Herefordshire.
Hungry Hobos starring Oswald the Lucky Rabbit was made in 1928 but has been missing since before World War II.
Robert Dewar, from the archives, said: "This is not just any old lost film, it marks the advent of Disney as a new successful commercial animator."
The 16mm film is expected to fetch £25,000 at auction next month.
Mr Dewar said: "Oswald the Lucky Rabbit is a very prototype Mickey, that is where Walt Disney really developed his huge animal theme that he carried right through in his career."
It is believed Walt Disney made 26 films using the character Oswald before he started his own company and created the character of Mickey Mouse, based on many of the rabbit's features.
Amanda Huntley, from the archives, said: "How we ended up with the film I don't know, it was probably collected by my father who started the company and it has been sitting on our shelves for decades.
"We have decided to sell it because it is not really what we specialise in and we can use the money to preserve other films we have."
The film will be auctioned at Bonhams Entertainment Memorabilia in the US.