Herefordshire firm's lost Mickey Mouse prototype film auctioned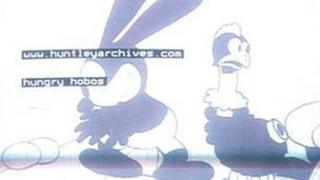 A Disney cartoon featuring what is thought to be the prototype Mickey Mouse character has been sold in the US for $25,000 (£16,000).
Hungry Hobos was made in 1928 and stars Oswald the Lucky Rabbit.
The 16mm film had been missing since before World War II but was found 12 months ago among the Huntley Film Archives in Herefordshire.
It was bought by an anonymous bidder in Los Angeles. Huntley Film Archives said the proceeds would fund more archiving.
The auction guide price was between $25,000 and $40,000 dollars.
Robert Dewar, from the archives, said: "We are delighted it has been sold.
"We watched it twice, once when we stumbled across it and once with the auction house. Now it has gone but it will help us to continue our general archive work."
The film running time was seven minutes and nine seconds and was auctioned at Bonhams Entertainment Memorabilia.
Speaking before the auction Mr Dewar said Oswald the Lucky Rabbit was "a very prototype Mickey".
"That is where Walt Disney really developed his huge animal theme that he carried right through in his career," he said.