Sir Roy Strong leaves The Laskett Gardens to the nation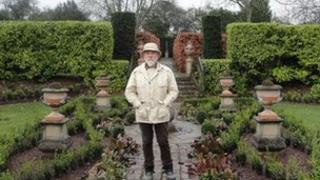 Four acres of formal gardens in Herefordshire are being left to the nation by historian Sir Roy Strong.
The Laskett Gardens at Much Birch were created over almost 40 years by Sir Roy and his late wife, the designer Dr Julia Trevelyan Oman.
They include a rose garden, a lime avenue and an area created to celebrate the Queen's Silver Jubilee.
Sir Roy said his decision to leave the house and garden to the public came as he reached "a new stage in his life".
He said: "Julia and I married late - I was 35 and she was 40 - and I guess the garden became the children we never had."
Sir Roy was director of the National Portrait Gallery and the Victoria & Albert Museum.
His wife died in 2003.