Teme bridge closure: Loyalty scheme targets shoppers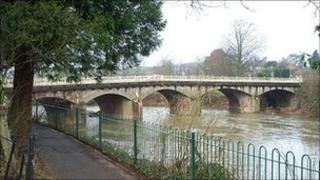 Businesses in a Worcestershire town are hoping a lottery-based loyalty scheme will help their trade while their river bridge is closed.
The Teme Bridge in Tenbury Wells is closed for 10 weeks for maintenance.
Shoppers who make it into the town can win iPads and prizes of £1,000.
Councillor Ken Pollock said: "We are trying to encourage the people who would normally shop in Tenbury to keep doing so, despite the inconvenience of the bridge being closed."
For people who live on the other side of the River Teme, the next nearest bridges across are at Little Hereford three miles upstream and at Stanford Bridge, nine miles downstream.
Sadie Chalkley, president of the Tenbury Wells Chamber of Trade, said the loyalty scheme would be "very helpful" to local businesses.
"Our experience shows that in the past when this has happened with roadworks people go elsewhere to shop because there are lots of small towns not so far away, and only a percentage of them come back afterwards," she said.
Penalties for delay
Worcestershire County Council and Malvern Hills District Council have given £50,000 to help local traders while the bridge is shut.
Mr Pollock said the bridge should reopen in 10 weeks and that the firm carrying out the work would face penalties if the work over runs.
"The company that actually got the business was able to reduce the estimated time for the work from four to five months down to 10 weeks," he said.
The Teme Bridge links Tenbury Wells with the Shropshire village of Burford and is a listed heritage structure, parts of which date back to 1390.
In 1908 there was a major refurbishment and widening of the bridge but Worcestershire County Council said the structure had since deteriorated.