Duck a victim of discarded litter in Worcester river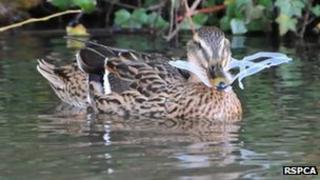 An animal charity is attempting to catch a duck which has a plastic beer can holder stuck in its mouth.
The mallard was spotted in Worcester by members of the public who contacted the RSPCA.
The charity says attempts by its officers and a swan rescue group to capture the duck have failed.
A spokeswoman said the animal's suffering was "entirely preventable", and asked people to dispose of litter in a responsible way.
She said attempts were continuing to catch the duck, and the charity planned to try a boat rescue next week.
The duck is often seen on the river near Worcester City Football Club's St George's Lane ground.
The RSPCA said: "This poor duck is in this distressing position because someone couldn't be bothered to put their litter in a bin.
"A casually dropped piece of litter can have devastating consequences for our wildlife."
The charity has asked people to cut open the loops on plastic bindings which hold beer and soft drinks cans together and dispose of them in a rubbish bin.