Worcester Oxfam wedding dresses slashed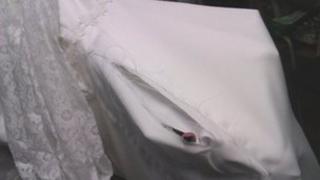 Wedding dresses at a charity shop in Worcester have been slashed by a customer with a craft knife.
Staff at the Oxfam shop in Mealcheapen Street discovered the damage when they were checking stock on Monday.
Wedding gowns, bridesmaids dresses and designer outfits had all been sliced with the sharp blade.
Manager Julie Skipp said: "It's depriving the needy we collect for and the people who can't afford a designer outfit."
She said the shop would have been able to make up to £500 by selling the outfits.
The damaged outfits included three wedding dresses, two bridesmaids' outfits and three silk designer dresses.
One of the designer garments was to have been the prize in the shop's Valentine's Day raffle.
Mrs Skipp said staff still have no idea why the outfits were slashed.
"There's lots of thoughts and rumours going around in the shop - was somebody jilted, was it a grievance about us personally? I don't think we'll ever know," she said.