Alvechurch School coach crash: Driver charged with involuntary manslaughter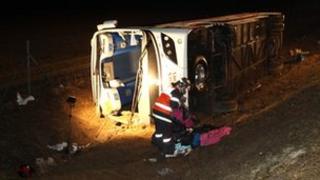 The driver of a coach that crashed in France, killing a teacher, has been charged with involuntary manslaughter.
Derek Thompson, 47, who prosecutors said had earlier admitted that he could not remember the accident, appeared before a magistrate on Monday evening.
Peter Rippington, 59, who taught at Alvechurch School, Worcestershire, died and more than 20 people were hurt in Sunday's crash near Rheims.
The school party had been returning from a skiing trip in Italy.
According to the Foreign Office, seven people remain in hospital, including a 13-year-old girl who underwent surgery in Paris.
Coach 'swerved'
Mr Thompson was behind the wheel of the coach when it went down an embankment on the A26 motorway near Rheims at about 02:30 GMT.
Prosecutor Christian de Rocquigny said: "Witnesses who were driving in the area near the coach saw the vehicle repeatedly swerve towards the verge.
"The tachograph indicates some unexplained variations in speed in the nine minutes before the accident.
"While being questioned the driver, having denied falling asleep, has acknowledged that it was possible that he did so."
Mr Thompson, who tested negative for alcohol or drugs, has been released to return to the UK on the condition he will attend a French court at a later date.
French police said there was also no evidence of him having worked excess hours or speeding at the time of the incident.
As part of his bail conditions, Mr Thompson must inform the authorities in France of any travel outside Britain and is banned from contact with victims and families of those involved in the crash.
The school party had been on a skiing trip to Val d'Aosta and was returning to England when the crash happened.
There had been 20 adults - including two drivers and six ski instructors - and 29 schoolchildren on board, Mansfield-based travel company Interski added.
Most of the children have now arrived back in Worcestershire.
School's tributes
Tributes have been paid to Mr Rippington - whose wife Sharon and daughter Amy were also injured in the crash - at the Church of England middle school, which opened as usual following the half-term break.
Speaking outside the school, Bryan Maybee, chair of governors, offered his condolences to those "affected by this tragic accident".
He said: "[Peter Rippington was] a dedicated and inspirational teacher. We continue to wish for the swift recovery and safe return of those currently being treated for injuries abroad. "
West Mercia Police said family liaison officers had been put in place at the school.