Festival of Britain Skylon 'inspiration' behind design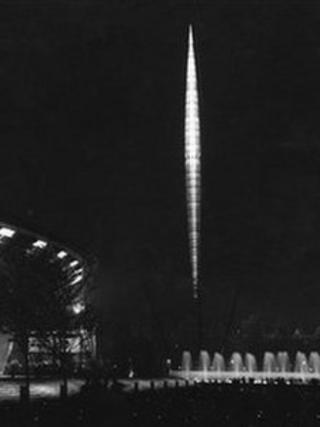 The centrepiece of the Festival of Britain in 1951 is set to be the inspiration for artwork at the entrance to Hereford's new enterprise zone.
The cigar-shaped Skylon, almost 300ft tall, was partly built in Hereford then moved to London's South Bank.
Herefordshire Council wants designs for a new structure at the park to be based on its 1950s predecessor.
More than 50 defence and engineering businesses will be based at the site, likely to be called Skylon Park.
'Optimism and confidence'
The government gave the go-ahead for site in Rotherwas and several other new zones last August after announcing plans for 21 sites in March.
Businesses benefit from cheaper business rates, superfast broadband and lower levels of planning control.
Hereford Business Board said at the time Rotherwas would be the "engine for economic growth" for the county.
Announcing plans for a new 157ft (48m) Skylon, Herefordshire Council said the 1950s structure represented a "futuristic symbol of hopes and aspirations of the nation" which is applicable to the new zones in rejuvenating and encouraging growth.
The original, made by Painter Brothers in Hereford, was supported on three pillars set into the ground which formed into a triangle.
The new artwork would be illuminated at night and the council said it hoped it could become a tourist attraction in its own right.
Neil Kerr, chairman of the Hereford Business Board and vice-chairman of the Enterprise Zone Board, said of the original Skylon: "It depicted in visual form the optimism and confidence of a future using cutting-edge technologies.
"This is what the new Enterprise Zone represents and we believe the image of the Skylon is a fitting tribute which reflects the county's proud engineering tradition while symbolising the modern hi-technology businesses and their ambition, innovation and drive they will bring to the Enterprise Zone.
"This is only a concept we're working with at this stage but the potential is huge."
The Festival of Britain in May 1951, aimed to lift the spirits of the British public in the aftermath of World War II by celebrating the British people, their achievements and the land of Britain.