Evesham water firm in UK disaster response team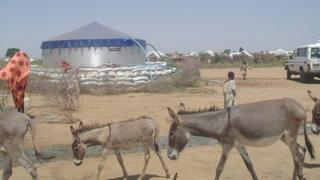 A Worcestershire water storage firm will be part of a unit called on by the government to deal with famine, floods and earthquakes around the world.
Evenproducts, of Evesham, will provide water supply experts and water tanks as part of a rapid response facility.
The team will mobilise life-saving support in the critical hours after a humanitarian disaster, the Department for International Development said.
The network will include more than 30 organisations.
The Department for International Development (DFID) said it was the first time the government had brought together the "power" of the private sector together with charities and non-government organisations for emergency relief.
Birmingham-based charity Islamic Relief UK, set up in 1984 in reaction to the famine in Sudan and Ethiopia, is also among the organisations chosen.
The charity's programme director Dr Hossam: "We are excited and honoured to be a part of this network.
"Our involvement is an acknowledgement of the part we have played in dealing with major emergencies such as the Indian ocean tsunami, the Haitian earthquake, floods in Pakistan and famine in Somalia."
'Vital window'
Evenproducts, of The Oxstalls, Evesham, scrambled its specialist emergency aid team and equipment as part of the response after Typhoon Washi struck the Philippines in December.
Jenny Rohde, humanitarian aid director at Evenproducts, said the firm was "delighted" it had been asked by the government to join the response team.
"We have valuable expertise in disaster response honed over many years and have built a committed and dynamic team which springs into action at short notice to deliver essential water and sanitation equipment to disaster-struck communities," she said.
International Development Secretary Andrew Mitchell said: "We need our best experts, equipment and aid on the ground quickly after a disaster, not tied up in red tape.
"They need to be able to do their job in the vital window of 72 hours, to save as many lives as possible."