Community sculpture for Worcestershire villages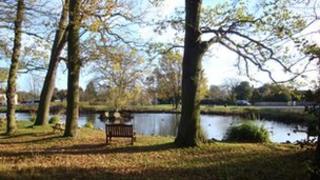 Two Worcestershire villages have secured more than £12,000 to create a community sculpture.
Designed to reflect the heritage of Hanley Swan and Hanley Castle, the organisers said they hoped to involve as many local people as possible.
The initial plans have been designed by pupils at Hanley Castle Secondary School and Hanley Swan primary, working with sculptor Michael Scheuermann.
The completed sculpture is expected to be unveiled in February 2013.
Russell Farraday, one of the organisers, said feedback from villagers suggested an element of "functionality" in the final artwork, such as a seating area, and may also include a swan design, in celebration of Hanley Swan's name.
Primary school pupils are also expected to design a series of stepping stones around the sculpture, which will be built on the Hanley Swan village green, near the pond.
The project has received £8,000 from the Arts Council as well as funding from local arts organisation the Elmely Trust, Severn Waste and the Hanleys' Cafe and Market group.
The plans by Birmingham-based Mr Scheuermann are due to go on display in Hanley Swan village hall in April.