George Lord victim 'not supported' according to father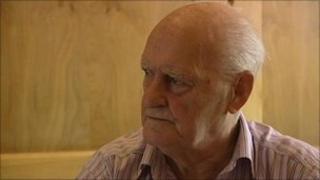 The father of a woman sexually assaulted by a former council leader has questioned how the authority handled the incident.
George Lord, 79, from Bromsgrove, was convicted of sexually assaulting the 19-year-old woman in 2010.
Her father said Worcestershire County Council leant towards "calling her ordeal untrue" and encouraged her not to proceed with the allegation.
The council said staff were never discouraged from pursuing allegations.
'Very traumatised'
In a statement the council said it treated any allegations with "utmost seriousness" and that, regardless of seniority, nobody was exempt from its code of conduct.
Worcestershire County Council leader Adrian Hardman said: "In this case from the day the incident took place, the individual involved has been and continues to be supported by the county council."
However, the woman's father said she only received support from her family and work colleagues.
He said the ordeal had left her "very traumatised", and he and his wife were very proud of the "bravery and courage" she had shown in bringing Lord to justice.
In a separate case Lord pleaded guilty to indecently assaulting a teenager in the 1970s.
He has been remanded in custody at Birmingham Crown Court and is due to be sentenced next month.
The former council leader resigned in November 2010 after allegations were made about inappropriate behaviour towards staff.