London 2012: Herefordshire and Worcestershire torch relay revealed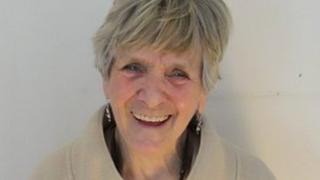 London 2012 torch relay organisers have revealed the streets on which the torch will be carried in Herefordshire and Worcestershire.
The torch will be carried through several areas in the two counties in May and makes a second journey through Worcestershire in July.
It is part of a 70-day UK tour ahead of the Games, commencing on 19 May.
Torchbearer Monica Martin, from Worcester, said she was taken aback at being nominated to carry it.
She said she was already practicing for the relay "using a rolling pin in the kitchen".
The 71-year-old, who has taken part in marathons in London and New York and completed several half marathons, has done volunteer work at St Richards Hospice in the city for nine years.
'It's great'
She will carry the torch in Worcestershire on 25 May and believes it may have been a patient from the hospice who nominated her.
"It's strange, I have been watching the news since October when I found out (about being a torchbearer) so I'm glad to be finding out the details now," she said.
"I think it's great.
"I never thought about it (when the Games were announced) and my kids are delighted, as you can imagine."
On Thursday 24 May the torch will travel through Herefordshire on its way to Shropshire and areas it will pass through there include Ledbury, Bartestree, Lugwardine, Hereford and Leominster.
After Shropshire, it will go to Worcestershire and travel on the Severn Valley Railway from Bewdley to Kidderminster before travelling through Droitwich Spa and Fernhill Heath and ending the day in Worcester.
'Greatest show'
Chris Bond, a keen runner from Malvern, has been chosen to carry the torch in Fernhill Heath after being diagnosed with stomach cancer and undergoing two operations, the most recent in January.
He said: "I am thrilled and humbled to be given the opportunity to run the Olympic torch relay and have a part in what I believe is the greatest show on earth.
"Participating in the relay provides an inspirational focus for my determination to recover and get fit enough to run again."
After an overnight stay in the city, runners will take it through Powick, Malvern and back into Herefordshire at Ross-on-Wye before entering Wales.
The torch returns to Worcestershire on 1 July, travelling through Redditch, Astwood Bank, Alcester, Evesham, Wickhamford and Broadway.
The Olympic flame arrives in the UK on 18 May. During the 10-week relay the torch will be carried by 8,000 torchbearers and will travel about 8,000 miles.
London 2012 organisers Locog say the torch will come within 10 miles of 95% of the population.