Leominster community orchard has all its trees stolen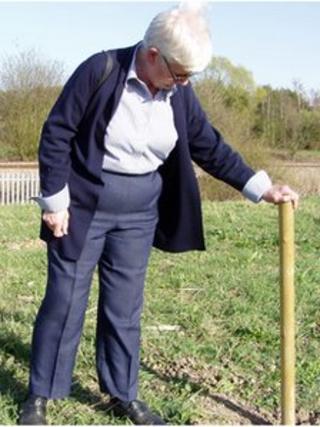 Organisers of a community orchard in Herefordshire have described the theft of their entire stock of young trees as "a terrible thing".
Fourteen young fruit trees planted by Leominster in Bloom were taken from a plot on the edge of the town.
The trees were 'sponsored' by people in the local community.
Mary Apps, chair of Leominster in Bloom, said: "When you consider all the hard work that was put in, you do lose faith in people."
The site is bordered by the River Lugg and the main Hereford-Shrewsbury railway line and there is a housing estate nearby, but Mrs Apps said that so far there had been no reports of anyone witnessing the removal of the trees.
Leominster in Bloom co-ordinated the design of the orchard, but the planting work was done by offenders on a community payback scheme.
Mrs Apps said: "I would think they are going to be more than a little bit peeved that it has happened as they were very positive when they were here and were actually enjoying doing the work."
The trees were taken sometime between Monday evening and Wednesday.
Leominster in Bloom plans to plant another 60 trees to replace the stolen ones on Sunday.