Ex-Worcestershire council leader jailed for sex assaults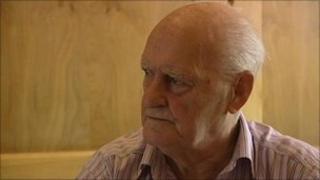 The former leader of Worcestershire County Council has been sentenced to four years in prison for sex assaults.
George Lord, 79, from Bromsgrove, was jailed at Birmingham Crown Court after previously admitting indecently assaulting a teenager in the 1970s.
He had also been convicted of sexually assaulting a 19-year-old in the council chamber while he was leader in 2010.
Lord resigned from the council in November 2010 after allegations about inappropriate behaviour towards staff.
West Mercia Police has said that at the time of the first case in the 1970s, Lord was a lay minister of a church and groomed a teenage girl for his own gratification.
'Very traumatised'
Police also said that in 2010, in his capacity as leader of the council, Lord took advantage of a young woman in a junior position.
A statement from the parents of one of the victims said: "My wife and I are satisfied with the sentence imposed and would like to thank the police for their outstanding work and compassion shown to our daughter.
"But we are still unhappy that the council will not conduct an independent inquiry into the handing of our daughter's assault."
A two-week internal inquiry is under way at the council into how it supported the woman after her father said she only received support from her family and work colleagues.
He has said the assault left his daughter "very traumatised" and the council leaned towards "calling her ordeal untrue" and encouraged her not to proceed with the allegation.
'Whistle-blowing policy'
The council disputed that claim and said the inquiry was being chaired by an independent official and was due to finish later this month.
The statement from her family said: "It is our understanding there had been a number of complaints regarding Mr Lord's conduct prior to our daughter's assault and we would like to know if her ordeal was preventable."
The council's chief executive Trish Haines said the sentencing of Lord "draws a line under a difficult matter".
She said: "Employee welfare is of utmost importance to us and we want staff to know we will always listen to any concerns they may have.
"We have a whistle-blowing policy which applies to everyone in the organisation, whatever their position."