Kidderminster knife attack victim praised for 'bravery'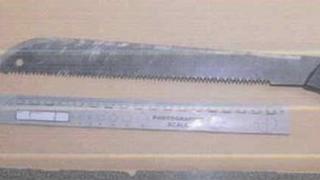 A Kidderminster shopkeeper has been praised by police after tackling two men who robbed his shop and threatened him with a machete-style knife.
Baldev Singh said he feared for his family when they attacked his business, BK Minimarket on Hoo Road, and took cigarettes and raided the till.
He said: "One of the men said 'stab him, stab him' - I was really scared."
West Mercia Police said he acted "very bravely" and have released a photo of the weapon.
Mr Singh has described the attack that happened on last Thursday night when he said he ran out of the shop into the car park and tried to wrestle one of the men to the ground.
'Tree surgeon' implement
He said: "My brain and my heart went into shock and I was scared for my wife and two children - I look after them and this is a family business.
"I was lucky but I'm also angry - why do people do things like this?"
Police said the black-handled Gerber with a blade of more than 12 inches was dropped during the struggle and Mr Singh picked it up and threw it back into the shop.
Forensic test are now being carried out on it and police are appealing for further information.
Det Con Iain Standing, of Kidderminster CID, said: "The weapon looks like a machete but is the kind of implement that might be used by a tree surgeon.
"It's quite distinctive and we are hoping that someone who sold it locally might recognise it or someone knows who owns it."