George Lord sex case: Staff complaints at council boss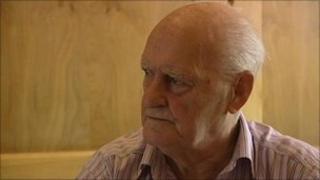 Worcestershire County Council has said that four workers had complained about the behaviour of its then leader before he sexually assaulted a teenage girl.
George Lord, 79, was jailed for four years for the attack on the 19-year-old in 2010 and for indecent assaulting a 14-year-old girl in the 1970s.
An independent inquiry ruled the council acted appropriately when the girl complained in 2010.
But it criticised the council for the way it communicated with the victim.
The council said its investigations following the 2010 assault uncovered an allegation of "unwanted attention and inappropriate contact" involving Lord, which included a kiss.
Three further cases of "unwelcome attention" did not involve sexual contact, a spokesman said.
Trish Haines, chief executive of the council, said: "Each of them had action taken to stop the unwanted attention that was being paid to the individuals, so our policy clearly works."
All four declined the chance to refer their cases to the police, although one of them subsequently gave a statement, the council said.
Better communication
The council set up the inquiry following complaints from the father of the victim of the 2010 sexual assault.
He said the ordeal had left her "very traumatised", and he and his wife were very proud of the "bravery and courage" she had shown in bringing Lord to justice.
Colin Williams, the independent chair of the inquiry, said the council had provided "significant and ongoing support" to the victim.
His report did criticise the council for failing to maintain "the required level of communication".
Mrs Haines said: "If we'd got that right some of this misunderstanding wouldn't have arisen in the first place and that would have been better for her."
She said that in any future cases the council would ensure the victim was informed "on a daily basis".
The father of the victim told the BBC he wanted time to read the full report before giving his reaction.