Worcestershire leader George Lord was 'ticking time bomb'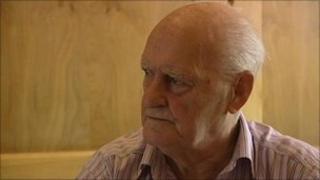 The family of a woman sexually assaulted by the former leader of Worcestershire County Council has called for a full independent inquiry.
George Lord, 79, was jailed for four years for the attack on the 19-year-old in 2010 and for indecent assaulting a 14-year-old girl in the 1970s.
An independently-led internal inquiry said on Monday four other workers had complained about his behaviour.
The 19-year-old's family said he was "a ticking time bomb waiting to go off".
The inquiry was prompted by the complaints from the victim's father.
'Unwelcome attention'
The council was found to have acted appropriately when the woman complained in 2010 but the report criticised the authority for the way it communicated with the victim.
On Monday, the council said its investigations following that assault uncovered an allegation of "unwanted attention and inappropriate contact" involving Lord which included a kiss.
Three further cases of "unwelcome attention" did not involve sexual contact.
All were before the 2010 incident, the council said. Lord, from Bromsgrove, resigned later that year.
The four did not wish the police to pursue their cases, although one subsequently gave a statement, the council said.
In a statement, the teenager's father said he was pleased the council was criticised for not having communicated better with his daughter and was also "dismayed" to learn about the four other incidents.
"We feel George Lord can only be described as a ticking time bomb, just waiting to go off and feel the county council should have acted in a more positive manner," he said.
'Abuse this power'
"George Lord was a very powerful man and has already proved he would abuse this power in whatever manner he could.
"We therefore ask the county council to conduct a fully independent inquiry into the handling of our daughter's assault but perhaps this time the inquiry should be conducted by a totally independent organisation."
Trish Haines, chief executive of Worcestershire County Council, said she was "dismayed" to hear about the concerns of the teenager and her family through the media.
She said there was a "danger of causing more upset to all of the staff involved by prolonging discussions in the media" and urged the teenager and her family to talk directly to the council.
"This will help us put any further support in place she may need and allow us to have a full and meaningful conversation to address any outstanding concerns," Mrs Haines said.
She added that the independently-led internal inquiry report found the council had "provided significant and ongoing support" to the teenager.
The wellbeing, requests for confidentiality and wish to move on with their lives of the five members of staff were the "primary concern", the council said.