Ex-council boss George Lord's 1970s abuse victim's 'closure'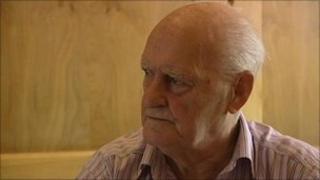 A woman sexually assaulted by the former leader of Worcestershire County Council in the 1970s said she only feels "closure" now he has been jailed.
In 1977 the woman, then 14, was groomed and abused by George Lord, 79.
She did not give evidence in court but said the details of her abuse "cannot fully express the huge impact it had".
Lord was jailed for four years this month, for her indecent assault and for an attack on a 19-year-old in 2010.
Lord, of Bromsgrove, resigned from the council in 2010 and was jailed by a judge at Birmingham Crown Court.
'Heinous act'
A statement from the woman, released by West Mercia Police, includes extracts from her Victim Personal Statement read out in court.
"As a child I was deluded by your own delusions of self-importance," she told Lord.
"As I became older I saw you for what you really are: arrogant, manipulative, amoral, dishonest and dishonourable.
"You do not deserve the positions of public responsibility or the academic accolades you have held."
She said it was a "heinous act" for someone in a position of power to betray the public's trust in this way.
"When I was young and naïve you abused your status," she continued.
"You said to me once 'When you are older you will think all sorts of bad things about me'. How right you were."
'Justice done'
In the statement, the woman said she wanted to encourage other victims of abuse to come forward.
She said: "It took years before I managed to rebuild my self-esteem and confidence after the abuse and now that he is in prison I feel like I finally have closure."
The woman also praised Lord's other victim for giving evidence in court, helping them both to feel "justice had been done".
An independently-led internal inquiry has been held by the council after complaints from the father of the 19-year-old victim of Lord's 2010 attack, showing four other workers had complained about Lord's behaviour.
The council was found to have acted appropriately when his victim complained that year but the report criticised the authority for the way it communicated with her.
Trish Haines, chief executive of the council, has said: "If we'd got that right some of this misunderstanding wouldn't have arisen in the first place and that would have been better for her."