Aid worker seized in Sudan: John Sorbo's family 'on tenterhooks'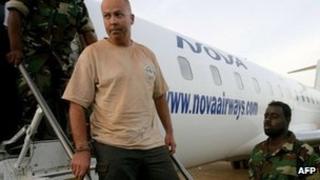 The wife of a mine clearing expert from Herefordshire being held in prison in Sudan said she was trying to keep life as normal as possible.
John Sorbo, 50, originally from Norway, is one of four people arrested on Friday while working for the charity Norwegian People's Aid charity.
His wife Bec told the BBC: "We know where he is but every time the phone goes I'm on tenterhooks."
The charity said it had heard the men were in good health.
Mrs Sorbo said the Norwegian government had been told that her husband was being held in a military compound but they were still being denied access to him.
'Life goes on'
On Sunday, Sudanese officials said four foreigners had been detained in the sensitive Heglig oilfield area, the scene of recent fighting with South Sudanese forces.
The other three people are from the UK, South Africa and South Sudan.
Officials said the group had been in an armoured vehicle and had engaged in "suspicious activities". They were flown to the Sudanese capital, Khartoum, for "further investigations".
Mrs Sorbo said her husband had worked in South Sudan on mine clearance since 2005 and regularly visited the Heglig area.
She said: "He usually rings on a Saturday to wish the children a good day, that was my first worry.
"I came home on Saturday at 6pm and had a call from the charity - they didn't know anything, they just said he was missing and unaccounted for.
"Life has to go on, I'm trying to keep life as normal as possible for the children's sake."
'Coping well'
Mrs Sorbo, the Norwegian authorities and the charity are working closely with the UN to make sure Mr Sorbo is released as soon as possible.
Austin Breeni, from the charity, said: "According to a spokesperson from the Sudanese army they are in good health, but since we have not had any direct communications with them we can't say anything for certain.
"Of course our main priority right now is to ensure that they are safe and ensure their rapid release."
Mrs Sorbo said she thinks her husband would be coping well with the situation.
She said: "He's very calm and kind, very level headed and diplomatic.
"Every time the phone rings I'm on tenterhooks, but the support from everyone has just been amazing - that's what keeps you going.
"We know where he is and at least we can act on that to help secure his release."