River Dore in Herefordshire 'could run dry' again despite floods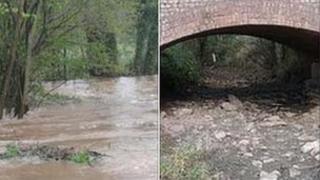 A Herefordshire river that ran dry six months ago has benefited from recent rainfall but will "not stop serious drought coming."
Robert Denny, of Monnow Rivers Association, said the River Dore, which has flooded, could run dry again later in the year.
A school minibus was pulled from the river at Peterchurch, on Tuesday.
Its drying out in 2011 was described by the Environment Agency as "the worst in living memory" for the area.
Mr Denny said: "It's quite possible to get a dry river bed again in October."
'Not long term'
"Probably the last time anything like this happened would have been 1976 when there were almost dry river beds and in a matter of weeks we had some of the highest floods ever recorded."
"In general this rain will do some good, but it's not long term.
"We could be down to summer levels and serious drought conditions in a few weeks if rain stops."
The Met Office has said it has been the wettest April in the UK for over 100 years.