Worcestershire floods test unfinished flood defences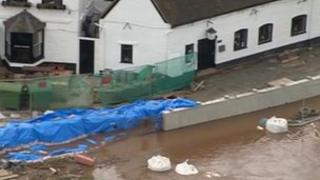 "We are ready to go if they should breach."
Worcestershire landlord Ralph Thompson was referring to the partially-built flood defences with swollen brown waters of the River Severn lapping around them, outside his riverside pub.
Mr Thompson, who runs the Swan Hotel in Upton-upon-Severn, knows only too well the damage flooding can do in the town.
He has watched as the Environment Agency (EA) began to replace the town's temporary flood barriers with a permanent wall, in the wake of the floods of July 2007.
The project is incomplete and Mr Thompson fears more flooding if river levels continue to rise.
'Continuous monitoring'
"When they put the temporary defences up at least you knew you were protected," he said.
"We've got the half-built permanent defences and [the Environment Agency] have put sandbags along here to try to block up the gaps."
The EA has said the permanent new flood defence wall is "almost completed".
A spokesman said: "We have used the partially constructed wall and added large sandbags and temporary demountable barriers in places to protect the town against the rise in river levels we are expecting."
While the temporary defences are in place, the agency said it will have someone on site "to continuously monitor the situation".
Worcestershire County Cricket Club has also been anxiously watching the rising levels of the River Severn, which flows past their New Road ground.
In July 2007, the entire ground was flooded, causing more than £460,000 worth of damage and forcing the club to play their remaining fixtures in Kidderminster.
David Leatherdale, Worcestershire's chief executive, said there is some water on the pitch at New Road, but he is hoping there will be no repeat of 2007.
He said: "The water on the outfield is rainwater from overflowing ditches round the ground.
"The Environment Agency say water has now peaked on the river - it could back up at any point so we're keeping an eye on it, but hopefully it has peaked now."