Local elections: Economy focus of Worcester elections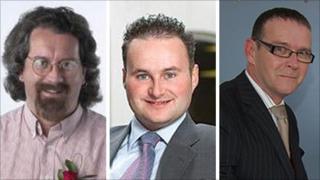 Conservatives leading Worcester City Council say they have protected vital council services "even in these austere times".
Council leader Simon Geraghty said: "Overall we are standing on our record of running a successful council that has delivered many local improvements, kept council tax and parking charges down and increased the support to help local businesses to grow and create much-needed new jobs."
Mr Geraghty, who is up for re-election in the St Clement ward on Thursday, said the economy was his party's "top priority".
As well as their record, the Tories had made seven new pledges to Worcester residents, he said.
But Adrian Gregson, the Labour group leader who is also up for re-election, said the Tories "could do better", especially in the areas of affordable housing and youth unemployment.
'Stabilised' finances
And Barry MacGabhann, the Liberal Democrat candidate for St Clement, said his party aimed to ensure services were "trimmed" rather than lost in the face of continuing cuts.
With 18 seats, the Conservatives lead the council by a majority of one. Labour has 12 seats and the Liberal Democrats have three.
The Association of Independents hold the two remaining seats, but both councillors are standing down, leaving open the political race and possible balance of power.
The Tories, who took overall control of the council last year, said they had "stabilised" council finances and looked after vital services, while having to make £1.6m savings over four years.
Mr Geraghty said the party had successfully led the council for 12 years, including 11 as a minority administration.
However, Mr Gregson, who is standing in the Rainbow Hill ward, said: "The simple question is do people want a council which enacts the government nationally in terms of continuing cuts and rising costs?"
Council apprenticeships
He said a council scheme had only resulted in two apprentices, while there were more than 800 unemployed 18 to 24 year olds in Worcester.
He pledged Labour would work with partners to offer better support for young job seekers and fund work schemes, including apprenticeships, some of which would be at the city council.
Mr Gregson said 4,000 people were on the housing waiting list and Labour would use "every funding source possible" to prioritise the building of new affordable homes to rent.
The party aimed to "make things fairer" in the face of continuing government cuts, he said.
"Local people have been losing jobs, losing homes, losing benefits and getting their pensions taxed and I don't think that's good for Worcester and its economy," he said.
Meanwhile, the Liberal Democrats want to put the "emphasis on employment and economic recovery".
Mr MacGabhann said it was the Lib Dems, rather than Labour, who had pushed for apprenticeships in Worcester.
He said his party had also called for new housing, including 40% of affordable homes, adding that the Conservative-run council had under-spent in this area.
"We want new housing for people living and working in Worcester, we don't want the city to turn into a commuter belt," he added.
However, the party also wants to "resist excessive new housing development".
Mr MacGabhann said Thursday would be an interesting night, considering the council's balance of power could change.
'One step further'
"We will talk to both parties in a situation that either one needs our support," he added.
Meanwhile, Mr Geraghty added it was "bizarre" the two other parties criticised the council over affordable homes and apprenticeships, when they had voted against a budget that aimed to make progress in these areas.
He said this included £250,000 economy initiatives, aimed to create up to 100 new apprenticeships over several years.
Mr Geraghty added the Conservatives were committed to delivering affordable homes and "had gone one step further" on housing with a £1m investment in the Lend a Hand scheme to help first-time buyers.
A full list of candidates standing in the 12 wards where elections are taking place is available on Worcester City Council's election website.