Two hurt as lightning hits flats in Belmont, Hereford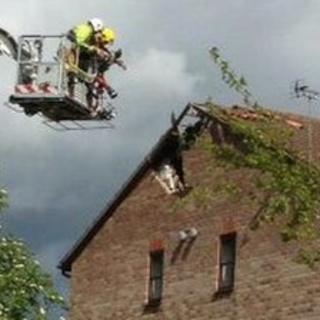 Three people have been treated by paramedics after lightning struck a block of flats in Herefordshire.
Two women suffered cuts and bruises when masonry fell from a building on Glenstall Close, Belmont, Hereford, on Tuesday. A man was treated for shock.
West Midlands Ambulance Service crews were called to the scene at about 15:30 BST.
Significant damage is thought to have been caused to the roof of the flats, the fire service said.
Structural engineers are at the scene to assess the damage.
The trio were assessed at the scene and did not require further hospital treatment, a spokesman said.