Diamond Jubilee: Effort to recreate 1953 Pinkett Street party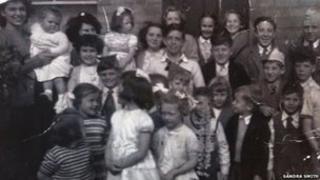 A street party organiser in Worcester is trying to trace people pictured in a photo taken on the day of the Queen's Coronation.
Sandra Smith from Northwick wants to reunite as many people as possible from the 1953 photo for a party to celebrate the Diamond Jubilee.
She said she knew about eight people pictured had died and had so far managed to contact 10 others.
The celebrations on 3 June will be Pinkett Street's 12th street party.
The first one was held for VE Day in 1945 and the most recent marked the Royal Wedding last year.
Mrs Smith said: "I remember on the day of the Coronation taking an old pram up the street and collecting jellies, sandwiches, cakes and crowding into what was the butcher's shop and all sitting down having a party."
She said street parties since then have evolved to include cordoning off the road, long trestle tables and bunting.
'Community spirit'
The party planned for next month will cost £2,000 and include a bouncy castle, disco, singer, pig roast and children's entertainer.
Mrs Smith said: "We're planning around 200 adults, 70 children, 40 senior citizens plus hopefully the rest of these people from the photo.
"I think street parties like we hold are important to keep the community spirit alive, especially nowadays.
"More people work and you don't see them - they go out to work in their cars, come back in their cars but inviting them to the party is a way for everyone to get together."
Terry Penlington, pictured in the top right of the picture, had been contacted by Mr Smith and recently returned to Pinkett Street for the first time in 50 years.
He said: "It's a caring street and has always had a tradition of community spirit and clearly still does - it's fantastic to be asked back for the party."