Upton upon Severn flood defence work hits The Swan hotel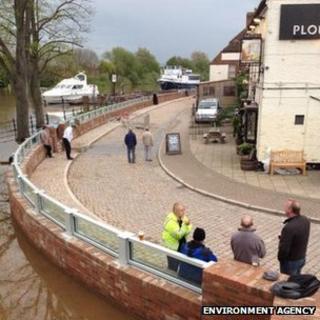 A hotel landlord in a Worcestershire town has said he is on the verge of closing because long-term flood defence work has severely affected business.
Works started outside The Swan hotel in Upton upon Severn in September.
Landlord Ralph Thompson said he and wife Sue have put all their savings into keeping it open and have had to lose three full-time members of staff.
The Environment Agency (EA) said work on the scheme, designed to protect 60 properties, is due to finish by 1 June.
Mr and Mrs Thompson moved into The Swan, where there are five bedrooms, in March 2008 and closed the business for eight weeks in 2010 while the EA carried out investigation work ahead of the flood defences being built.
The work has been carried out in two phases. The first involved creating an earth embankment, a new flood wall and floodgates across New Street.
The second phase along Waterside includes a permanent flood wall with glass panels along the top of the wall with five pedestrian gates to enable access to the river and a floodgate.
'Living off nothing'
Mr Thompson said they have been losing money since the EA started work in September last year and described it as "crunch time" in terms of staying open or closing.
He said: "The area outside the pub looks like a bomb site, we're not making money and everything we are making is going to back into the business.
"There's no real trade, a few local people pop in for a drink but room bookings are down and we've had to use our savings to keep going even though we've lost two kitchen staff and a waitress.
"We're living off nothing, we've never been here before - we're so far in debt it's ridiculous."
Mr Thompson said the EA had so far made four compensation payments since September when his insurance company stopped paying out and that he cannot see the work being finished by the due date.
A spokesperson for the EA said: "We have been working with businesses to ensure access can be maintained.
"Compensation has been paid to those directly affected for their losses during the construction."
The EA also said the work on the flood defences have been slightly delayed due to high water levels and the cold weather.
Mr Thompson said he cannot see what difference the permanent flood barrier will make compared to the temporary ones that have previously been used.
He said: "To us, I don't think it's going to be a massive change - my concern is the bigger picture.
"It's hard to see or think of anything beyond tomorrow unless we get some influx of cash to keep the business afloat."
He added that they are planning to speak to the brewery which owns the hotel on Monday.