Weapons of ex-SAS soldier Frank Williams to be auctioned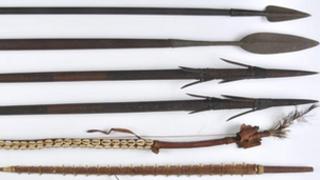 A collection of weapons kept in a pub by a former SAS soldier from Hereford is to go up for auction on Thursday.
They were displayed at the David Garrick pub in St Peter's street by landlord Frank Williams, before his death in August 2000.
The collection includes head-hunter swords, guns, tribal spears and a stuffed baby crocodile.
Henry Meadows, of Dominic Winter auctioneers in Cirencester, said he expected it to fetch about £2,500.
"Where items come from is the key to a lot of things, take the provenance away from this collection they are just weapons that are nice to look at," he said.
"The story behind it can determine how well things do at auction and these have a good story."
Mr Williams served in the SAS for 19 years after joining in 1950 and was awarded the British Empire Medal (BME).
He took over the running of the David Garrick pub, which is now known as Watercress Harry's, shortly after leaving the service in 1969.
He decorated the ULU bar inside the pub in a jungle style using the weapons he had collected.