Ex-SAS soldier's weapons collection raises £4,500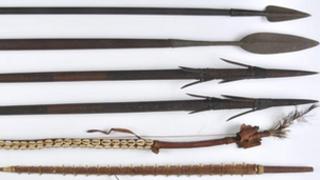 Weapons from around the world collected by a former SAS soldier from Hereford have sold for £4,500 at auction.
The items, including spears, knives and guns, were displayed at the David Garrick pub by landlord Frank Williams until his death in August 2000.
The collection, sold by Dominic Winter Auctioneers in Cirencester, almost doubled its estimate.
Henry Meadows, from the auction house, said its appeal owed much to the story behind it.
Mr Williams, who served 19 years with the SAS from 1950, collected the weapons while on duty around the world.
His collection, which contained head-hunter swords and tribal spears, as well as a stuffed baby crocodile, were used to decorate the pub in a jungle style.