The Panorama Tower near Worcester opening to public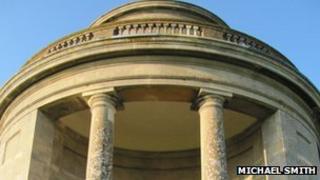 A Worcestershire landmark designed in the 18th Century has opened to the public for the first time.
The Panorama Tower near Worcester was restored thanks to Natural England, the Croome attraction and the Rowlands Trust, the National Trust said.
The tower, which overlooks the M5 and has a spiral staircase, opened for pre-booked tours on Sunday.
Designed by James Wyatt in the 1790s, it was dreamed up by Robert Adam, who first drew a design in the 1760s.