Worcester's Shrub Hill station centre of redevelopment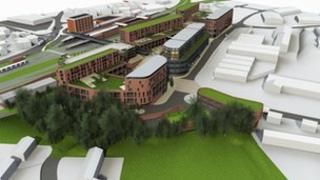 Plans for a £100m redevelopment of the area around Worcester's Shrub Hill station have been unveiled.
The development would include almost 600 new homes, a care village, offices, a cinema, bowling alley and ice rink.
Stennard Harrison from Sherrif's Gate Developments said: "The money will come from private sources and the scheme will take 15 to 20 years to self-finance."
Shrub Hill station itself would not be included in the redevelopment.
Mr Harrison said the redevelopment of the 900,000 sq ft (83,612 sq m) around the station would take between three and a half and four and half years.
The developers have been working very closely with the city planners over the past two years, he said.
The plans will be considered by the city council in the autumn.
If approved, the developers said the plans will be built in three phases and the whole complex would be finished by the end 2016 or early 2017.
Robin Walker, Conservative MP for Worcester, said: "It's a vote of confidence in the city that people are putting forward ambitious plans like this."