Diamond Jubilee: Boats ready for Queen's pageant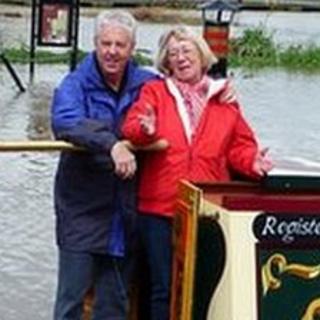 A narrow boat, delayed on its journey to London due to flood water, took part in the 1,000-boat flotilla on the River Thames.
Andrew and Wendy Dyke and their family represented Worcestershire.
Their boat, The Lord Toulouse, was stranded in Tewkesbury for 10 days during their 216-mile trip from Evesham, which started in April.
Mrs Dyke said she would be dressing up in a red, white and blue wig for the occasion.
Also taking part is Helen Clever, who is part of the 15-strong Worcester Busters Dragon Boat team.
The crew is made up of breast cancer survivors.
She said she would be playing the drum as the team went down the river and was looking forward to the event.
A replica Wye Trow, the Herefordshire Bull, is representing Herefordshire in the event.
The flotilla is to sail between Battersea and Tower Bridge in London with the Queen's barge leading the way.
See all the latest Diamond Jubilee news and features at bbc.co.uk/diamondjubilee