Redditch cremator pool-heat work begins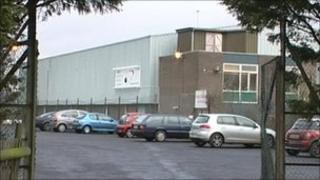 Redditch Crematorium has closed for two weeks while pipes are fitted so it can help heat a nearby leisure centre.
The work, which was initially criticised, will divert waste heat which escapes from the cremator chimney into Abbey Stadium.
Redditch Borough Council said the move would save taxpayers about £16,800 a year and also heat the crematorium.
Equipment will also be installed so the crematorium meets new laws to reduce mercury emissions.
The two cremators, which have been working for 12 years, and the flue network will be replaced.
The Labour-controlled council said the work would bring the crematorium up to modern standards.
'Attracted interest'
There will be no disruption to visitors to Abbey Cemetery while work is carried out, the council said.
The crematorium is expected to reopen with reduced capacity from 18 June and the new system is expected to be operational by late summer.
When the plan was unveiled in January 2011, the union Unison called it "insensitive" and an example of a "desperate policy" in response to spending cuts.
But the council said the scheme, which has since won a Green Apple environmental award, was widely supported.
Redditch Borough Council Leader Bill Hartnett said: "Some of the initial reactions to the council's energy recovery plan were understandable, it was a new and different idea in a sensitive area.
"Redditch may well now be leading the UK in recycling and re-using this energy, but the technology was already well understood and implemented in Europe, and once it was properly explained most residents as well as commentators nationwide quickly came to understand what we were doing."
He added the project had attracted interest and inspired councils around the country.