Blandford fly blamed for high level of allergic reactions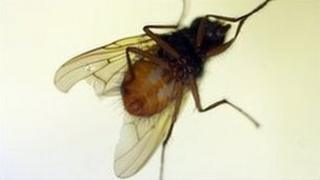 The Blandford fly is being blamed for a high number of allergic reactions being reported to Herefordshire doctors.
There was a rise in such cases last year and a spokesperson for NHS Herefordshire said it was receiving a similar number of calls this year.
Dr Arif Mahmood said there were 500 recorded cases involving the small black insect during the peak season between April and June in 2011.
He said: "It usually bites on the leg and causes localised swelling."
"In some cases it causes joint pain," Dr Mahmood added. "However, there will generally be no need to visit a GP.
"In some cases the bites can become infected and antibiotics are needed. These are the exception rather than the rule.
"For the majority of people the symptoms last a few days and then clear up."
The insect, which lives near watercourses, gets its name from a severe outbreak in Dorset in the 1960s and 1970s.