Harriet Baldwin's laptops stolen from parliamentary office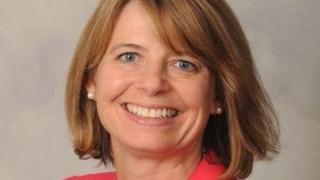 Two laptops containing "sensitive material" have been stolen from the locked parliamentary office of a Worcestershire MP.
Conservative MP Harriet Baldwin said the computers were stolen over the bank holiday weekend.
She also called for a parliamentary inquiry, after they were taken from one of the country's most secure buildings.
Formerly the Metropolitan Police headquarters, the Norman Shaw Buildings house a number of MPs' offices.
Located next to Portcullis House in Westminster, the buildings are just a short walk away from the House of Commons.
Ms Baldwin added that security settings meant that it would be difficult for anyone to access information.
"I have called the Information Commissioner, obviously I've called the data protection officer at parliament and notified everyone," the MP for West Worcestershire added.
She said the laptops were stolen from a locked room in a "secure part of Parliament".
"You have to walk past policemen with sub machine guns to get into it," she added.