Tributes to three killed in crash near Pershore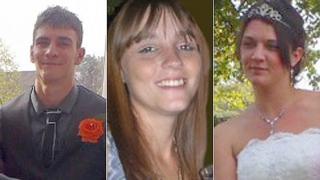 A brother and sister who have been killed in a car crash were "inseparable from an early age", their family said.
Luke Morris, 22, of Kidderminster, and his sister Rebecca Townsend, 26, of Wick, Pershore, died early on Saturday.
Mr Morris's partner, Elizabeth Stanley, 24, also died after the Nissan 200 SX Coupe he was driving came off the B4084 near Pershore and hit a tree.
The couple leave a three-year-old daughter and Ms Stanley also had a son, aged six, from a previous relationship.
Mrs Townsend leaves two children, aged six and four.
Her husband Craig suffered multiple injuries in the crash and is in critical but stable condition in hospital, West Mercia Police said.
Luke Morris was an electrician, while his sister was a carer. Both had attended Wolverley CE Secondary School.
'Proudest day'
A statement from the Morris family said both were "dedicated to their children, who they loved dearly".
"Luke and Becky leave behind an extended family and many friends who, along with their parents and step parents, are devastated by what's happened," it said.
"Luke and Becky were inseparable from an early age. They were always there for each other.
"We are all very proud of them. Nobody had a bad word to say about either of them."
Their father Paul added: "The proudest day of my life was when I gave Becky away on her wedding day; she looked so beautiful."
Ms Stanley, who had four brothers, attended Harry Cheshire High School, Kidderminster, a tribute led by her parents and step parents said.
"Elizabeth was a bubbly girl and a loving daughter. Her life was dedicated to her children and she and Luke loved spending days out with them," it said.
"They also spent many happy hours with Becky and Craig."
The family added: "She was always doing something different, willing to give anything a try.
" She loved to sing and had a beautiful voice. She also loved animals, particularly her two dogs."
Police have appealed for anyone with information about the crash to contact officers.