Speed limit to be cut on fatal crash road near Pershore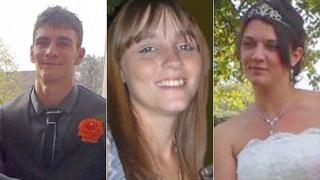 The speed limit is to be cut on a Worcestershire road where a woman, her brother and his partner were killed in a car crash, a council has said.
Elizabeth Stanley, 24, her partner Luke Morris, 22, and Mr Morris's sister, Rebecca Townsend, 26, died when their car left the B4084 and hit a tree.
The county council said the limit would go from 50 to 40mph "fairly shortly".
Mr Morris and his partner leave a three-year-old daughter after the crash on Saturday in Wick, near Pershore.
Ms Stanley also had a son, aged six, from a previous relationship.
Mrs Townsend, of Wick, Pershore, leaves two children, aged six and four.
Her husband Craig suffered multiple injuries in the crash and was in critical but stable condition in hospital.
'Takes time'
Worcestershire County Council member with responsibility for roads, John Smith, said the authority had carried out a speed limit review across the county over the past 18 months.
He said: "Most of those suggestions have now been implemented and the B4084... is recommended for a reduction to 40mph from the 50 that's here.
"You can't do all the recommendations in a couple of months. It obviously takes time to work through the process."
Earlier Wick Parish Council chairman David Scott said: "We've been having discussions with Worcester highways about the speed limits on that road.
"They don't appear to think that speeding is a problem, but everybody in the village will have a tale to tell about either speeding or reckless overtaking on that stretch of road."