Worcestershire hospitals face cuts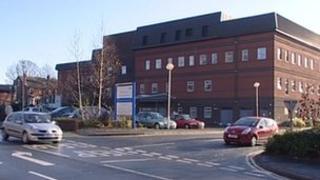 A hospital could lose its accident and emergency unit as part of part of a shake-up of NHS services in Worcestershire.
Redditch's Alexandra Hospital is expected to be the worst hit but others in Worcester and Kidderminster will also be affected.
The trust running the three hospitals has said it needs to save £50m by 2015.
It blamed the shortfall on the rising cost of drugs and increased demand, due to people living longer.
The plans, which have yet to be finalised, could see emergency cases from Redditch treated in Birmingham, some 15 miles away (24km).
Redditch's A&E could be turned into a minor injuries centre, similar to one currently operating in Kidderminster.
Under the proposals, Kidderminster Hospital would also see surgery moved to Worcester.
'Lives lost'
Penny Venables, chief executive of Worcestershire Acute Hospitals NHS Trust, said no decisions had yet been made.
She added cuts had to be made to ensure "safe, quality and sustainable" services and the proposals had been put together by doctors and other medical staff.
Nina Woodford, from the Unison trade union, said lives could be lost if the A&E unit closed at the Alexandra Hospital.
Campaigners have also said they would fight plans to close the department.
Dr Richard Taylor, health campaigner and former Wyre Forest MP, said he was "saddened" by some of the proposals put forward by the trust.
He added that retaining an urgent care centre at Redditch, which would deal with all except the most severe surgical emergency cases, could be the best solution.
Public meetings
Dr Taylor said: "Obviously everyone would like an A&E department on their doorstep, but that is just not feasible.
"We've got to realise there is a huge amount of money to be made up."
MP for Redditch Karen Lumley said doing nothing "was not an option".
Last year, the wider NHS in Worcestershire said it needed to find £200m of savings by 2015.
A series of public meetings is being held over the next month to explain the proposals.
A final decision would not be made until December at the earliest, Ms Venables added.