Woundcare 4 Heroes charity launches in Worcester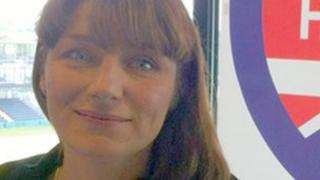 A charity providing specialist wound care to former members of the military is being launched in Worcester.
The West Midlands-based charity Woundcare 4 Heroes aims to help rebuild the lives of men and women injured in conflict who have been discharged.
It was founded by Claire Stephens, a nurse specialist and former nursing officer captain of The Queen Alexandra's Royal Army Nursing Corps.
She said wound care within the military and within the NHS were very different.
Ms Stephens worked at the Queen Elizabeth Hospital in Birmingham for 17 years in complex wound healing before joining the Army.
She was injured and medically discharged in December last year.
She said: "The problems start to arise when servicemen are discharged and cascaded outside of the military - that's no disrespect to the NHS, but wound care within the military and within the NHS are very different.
"Hundreds and thousands of veterans are now in their 20s, 30s and 40s and will require these complex wound services for the rest of their lives."
Organisers plan to apply for a grant from Help For Heroes.
Members of the Red Devils, the British Army's Parachute Regiment Display Team, gave a display at the event to mark their support.
The launch coincides with the 30th anniversary of the end of the Falklands War.