Worcester sports arena to open in 2013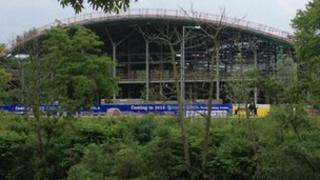 A brand new £15m sports arena in Worcester will open in January 2013.
The 2,000-seater venue on the site of a former fruit and vegetable market in Hylton Road is being developed by the University of Worcester.
Mick Donovan, head of the university's Institute of Sport and Exercise Science, said building work was "on schedule".
"We've worked hard for two years to get funding and to see the roof go on this week is really exciting," he added.
The facility will be a national centre of excellence for disabled sport and will also be Worcester Wolves basketball club's new home.
The arena will include three basketball courts, treatment and first aid rooms, meeting spaces, a cafeteria, and a hospitality suite.
Mr Donovan said: "In this region we have to travel to Birmingham or Bristol to have decent indoor sports facilities, but this will attract some big events for spectators to come and watch.
"If you're athlete and you want to perform in a decent indoor arena it's going to have a beautiful purpose-built wooden floor.
"It's going to be one of the best facilities in the country."