Alfrick and Lulsley villagers raise £65,000 for shop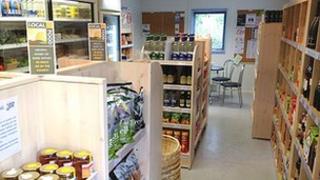 Villagers have raised £65,000 to open a community shop in Worcestershire.
The new shop, called the Village Shop @ Alfrick, will be run by about 60 volunteers from Alfrick and nearby Lulsley.
The community in and around Alfrick raised £20,000 for the project through buying shares, chairman Alan Soper said.
The village's original store closed in April 2011 after the owners retired, he said.
"Extraordinary" support
Along with the community contributions the project received £35,000 in funding from Awards for All, Big Lottery Fund and the Plunkett Foundation and a £10,000 business loan.
Mr Soper, who is chairman for the shop's company Alfrick and Lulsley Community Shop Ltd, said: "This is an extraordinary achievement to get nearly 60 [people] who are prepared to give up their time.
"It will be a three-hour shift either once a week or once a fortnight and it's just a lovely group we've got together and it's ready and waiting to go."
He added that when the original shop closed it left people feeling "anxious" they had lost their "centre of the community".
The project took a year to develop with around 20 visits to existing community shops to see how they work because volunteers had "no direct experience" of running a shop, he said.
There are future plans to expand the shop into a permanent premises in the next three years.