Tupsley church takes over former White House pub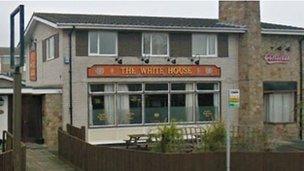 A Herefordshire church has taken over a former pub to launch a new community centre.
The White House pub on Withern Way, Tupsley, outside Hereford, closed in 2010, eight years after its owners put it on the market.
St Paul's Church said it would turn it into a new community centre, in partnership with the North Tupsley Action Group (N-Tag).
The refurbishment scheme has received £75,000 from Herefordshire Council.
Reverend John Watson, of St Paul's Church, said the former pub would "be at the heart of the community" and offer local people a place to meet for "youth clubs and older residents".
"It's been a haul pulling it all together, but I'm sure it will be worth it," he explained.
N-Tag said the centre was desperately needed, with no similar facilities in the area.
The group added the refurbishment project could still take months of fundraising before opening to the public.
Related Internet Links
The BBC is not responsible for the content of external sites.