Upton Jazz Festival goers pulled from mud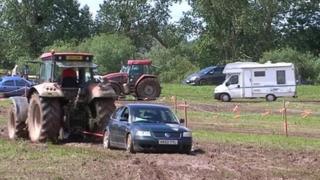 Dozens of vehicles had to be towed out of mud after heavy rainfall hit the Upton Jazz festival in Worcestershire.
A partially waterlogged campsite meant some cars, caravans and camper vans were towed out by tractors as the event drew to a close on Sunday.
Car parks on the site at Fish Meadow, Upton-upon-Severn, were closed and some of the jazz venues were moved into town following several days of heavy rain.
However, organisers put on a full programme for "undaunted" visitors.
Organisers estimated 9,000 people attended the 27th Upton Jazz Festival, although they said numbers were less than hoped for because of the weather.
Festival treasurer Roger Sutton said: "Everyone enjoyed themselves despite the slings and arrows of outrageous fortune, mud included.
"It was a full programme, we had a wonderful variety of jazz and my thanks to all the committee and volunteers who stepped in to make the contingency plans work."
Highlights of the event included the Chris Barber Band and the Sunday morning jazz church service in Upton.
There were also performances by Best of Young Jazz, a project which allows young people, including students from local schools, to work with professional jazz musicians.