Plans to build 3,000 extra South Worcestershire homes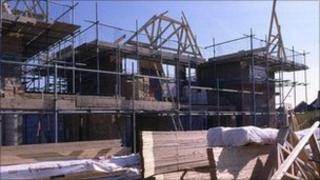 About 3,000 extra homes could be built as part of plans to build 20,000 homes in Worcestershire.
The increase in the number of homes from 20,360 to 23,200 follows a public consultation.
Malvern Hills District Council, Worcester City Council and Wychavon District Council have jointly produced the proposals.
More than 10,000 homes have already been built or been given planning permission.
The South Worcestershire Development Plan (SWDP) consultation held in 2011 had about 10,000 responses on proposed housing numbers.
SWDP also looked at transport needs and how to create new jobs in the area, according to council plans.
Councillor and SWDP chairman Marc Bayliss said: "We've looked at the evidence really carefully and believe that around 23,000 is the number [of homes] we need to actually meet the need of our three communities".
Worcester City Council said the extra number of houses being proposed was a result of the public consultation and government changes to planning rules and official growth statistics until 2030.
The changes will be put to the panel in a meeting on 3 July and if agreed will be put to another public consultation.
A revised SWDP document is planned for public review in October, with the aim of a final version being released in 2013.